DevOps Real-time Training
Best Devops Training Institute Hyderabad
Trainer: Mr. Sridhar  (12+ Years Experience ) 
New Batch Starting soon…. Enroll Now..
Tech Marshals Academy is one of the Best Devops Training Institute Hyderabad we are Offering Classroom and online Training By Real time Industry Experts.
Join our DevOps Training Classes and Get trained By Real time Industry professionals more than 12+ Years Experience to get hands on experience.
DevOps Course Content 
Introduction to Devops | Terraform | Packer | Chef | Ansible | Git | Jenkins | Docker | Kubernetes | AWS Basics
Introduction to DevOps:
Background
Ingredients of DevOps
DevOps principles
Who has adopted?
Mirage or Reality?
Challenges
Domain specific
Technology specific
DevOps Toolchain (Practices and Tools)
What is conventional software development methodology
What is Continuous Integration
What is Continuous Delivery
What is Continuous Deployment
What is continuous feedback
Faster deployments using devops
Collaboration
How Automation helps devops
DevOps Job market
Configuration Management tools
Chef:
Introduction to Chef:
What is chef
Difference between Chef open source and enterprise
Chef Architecture
Chef components
Chef server
Chef work station
Chef client
Installation of chef components
Configuration of chef server, work station and development kit
What is boot strap method
How to add clients to chef server
How to write cookbooks, recipes
How to search clients on command line from server
Knife command utility
Chef-client utility
How to write our own cookbooks
Chef Resources
Templates
Source files
Roles in chef
Environments in chef
Data bags in chef
Chef Kitchen utility
Real time cookbooks in Chef Super Market
 Ansible:
Introduction to Ansible
Ansible Architecture
Ansible terminology
Ansible installation and configuration
Ansible commands
Components of Ansbile
How to write playbooks
YAML overview
How to add nodes to server
Ansible modules
Inventory
Configuration
Modules
Playbooks
Roles
Tags
Ansbible Roles
How to download Realtime playbooks from Galaxy
 GIT: Version Control
 Introduction
What is Git
About Version Control System and Types
Difference between CVCS and DVCS
A short history of GIT
GIT Basics
GIT Command Line
Installing on Linux
Installing on Windows
Initial setup
Creating repository
Cloning, check-in and committing
Fetch pull and remote
Branching
Creating the Branches, switching the branches, merging the branches.
GIT Stash
 Continuous Integration tools:
 Jenkins:
What is Jenkins
Introduction
How to install and configure Jenkins
Jenkins dashboard
Jenkins authentication
How to achieve Continuous Integration with Jenkins
Jenkins Jobs
How to schedule jobs in Jenkins
How to integrate Jenkins with Maven
How to integrate Jenkins with Shell scripts
Jenkins plugins – how to download and use
Parameterizing the build
CI CD Enablement With Jenkins
 Dockers:
Introduction to Dockers
Installing dockers
What are containers
Exploring Docker hub
Pulling images from hub
Dockers from machine
Docker Commands
Docker pull
Docker run
Docker attach
Writing your own Docker File
Explaining Docker File
Docker Swarm
Monitoring Docker Swarm
 Kubernetes:
Welcome & Introduction
Container Orchestration
Kubernetes
Kubernetes Architecture – Overview
Installing Kubernetes
PODS and Services
Deploying a Stand-Alone Application
 Terraform:
Terraform Command Overview
Terraform Script Explained
Modules for Terraform
Terraform to spinup Linux machine
Terraform to spinup Windows machine
 Cloud Computing:
Introduction to Cloud
Cloud features:
Elasticity
Pay as you use
Different models of Cloud:
Iaas – Infrastructure as service
Paas – Platform as service
Saas – Software as service
 AWS Overview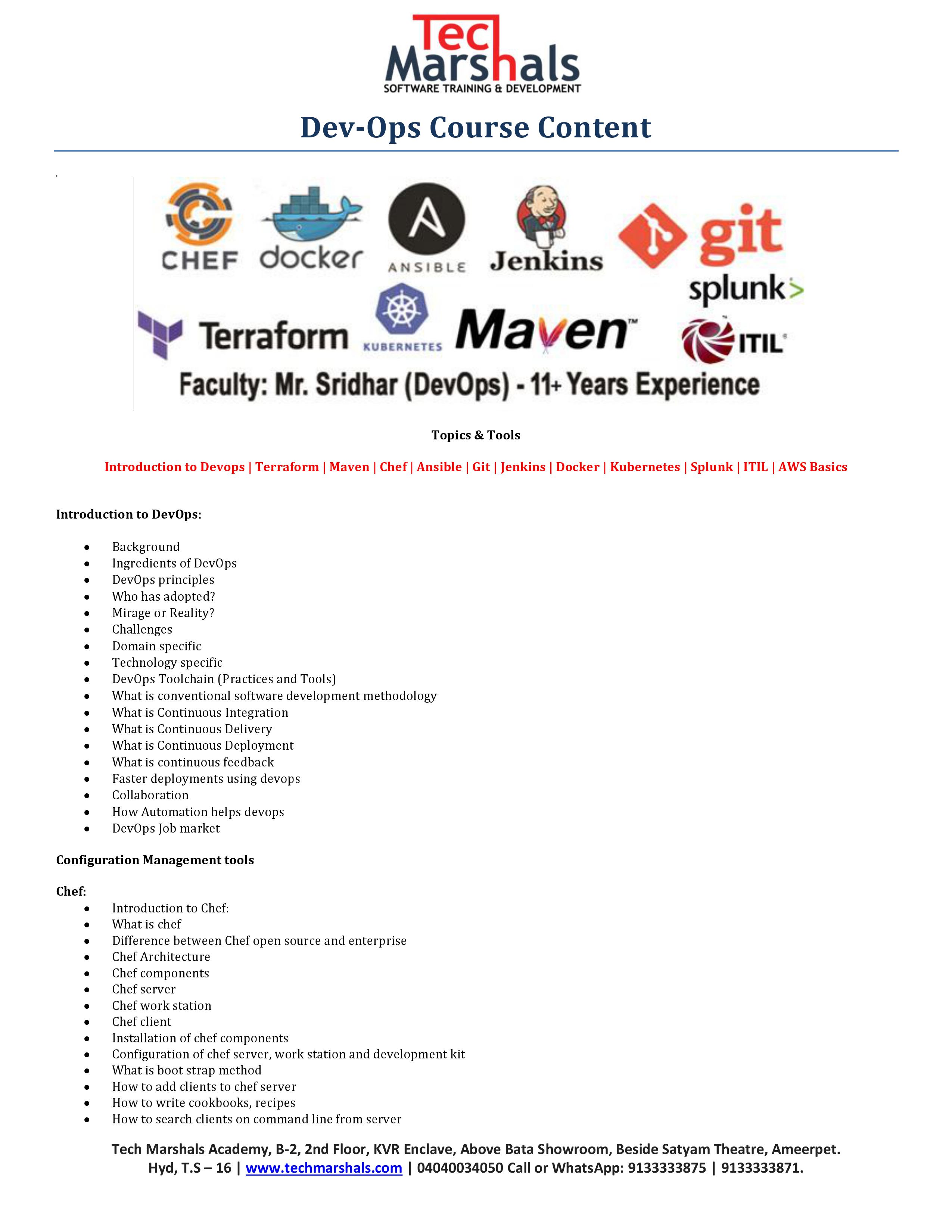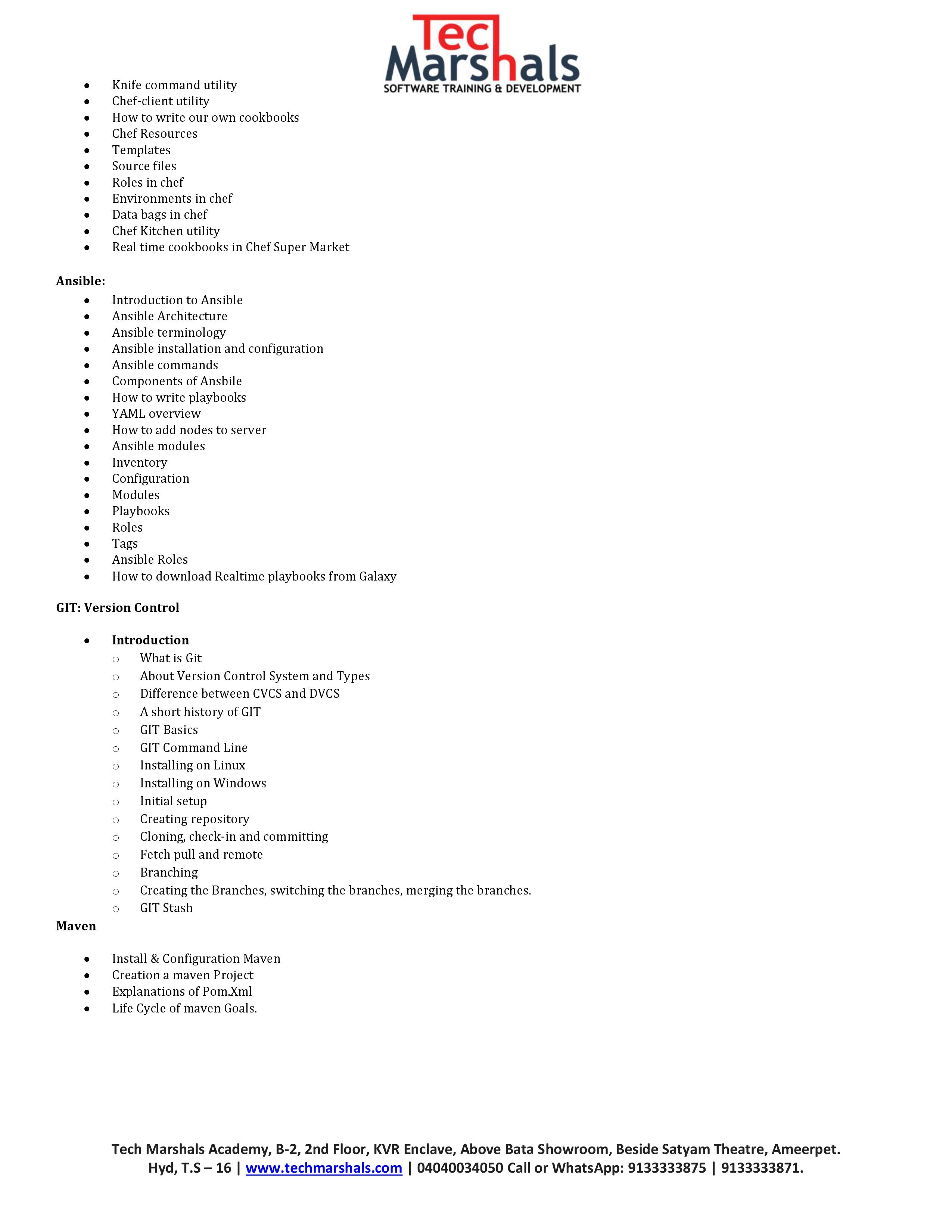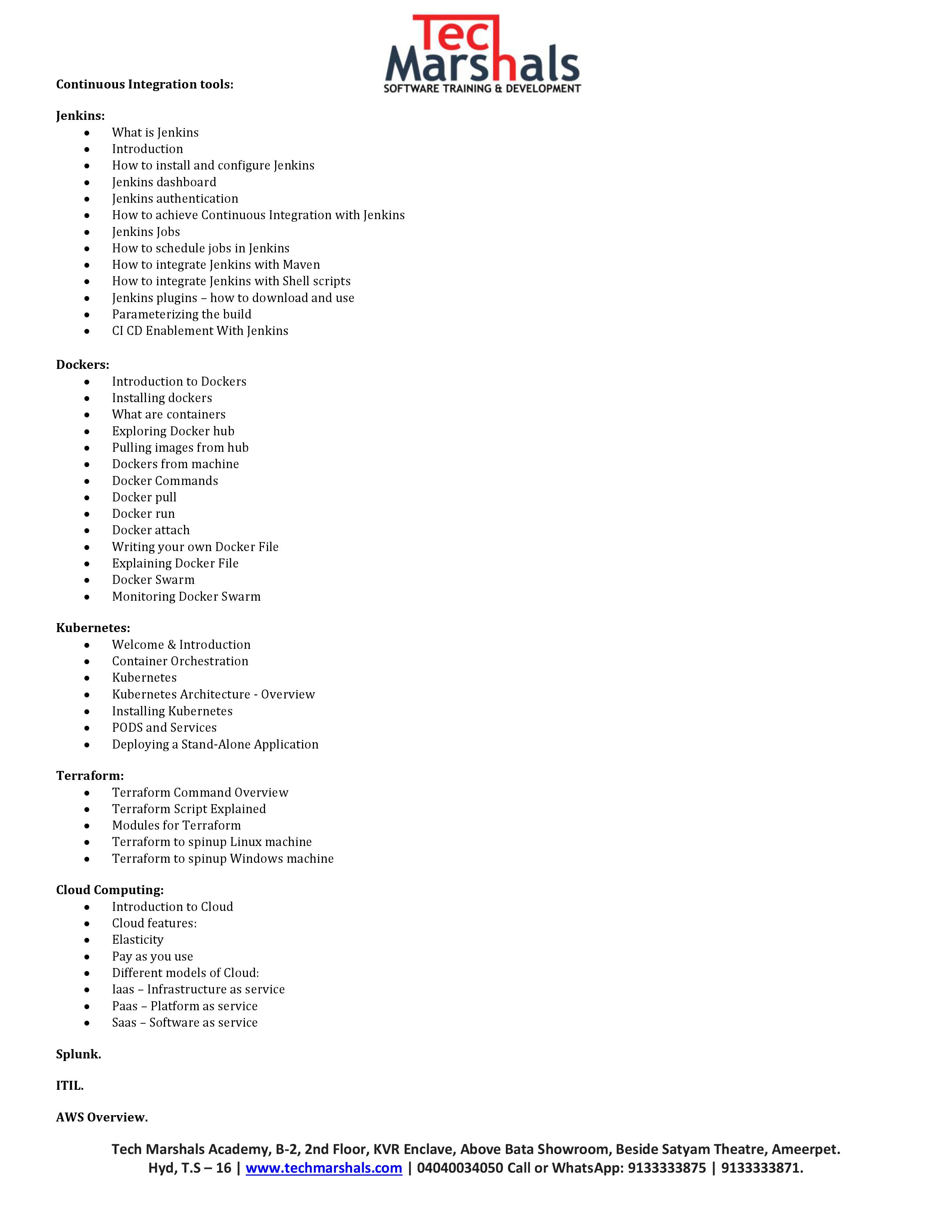 This DevOps training is designed to make you a certified practitioner by providing you hands-on training on DevOps tools and sharing DevOps best practices about Continuous Development, Continuous Testing, Configuration Management, including Continuous Integration and Continuous Deployment and finally Continuous Monitoring of the software throughout its development life cycle.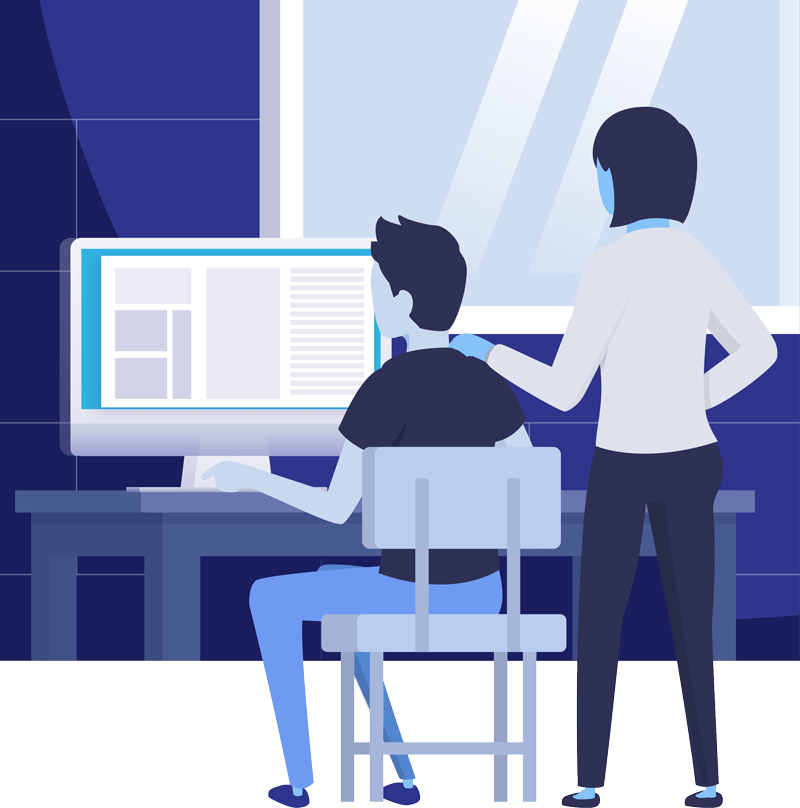 DevOps Training (100% Real-Time) for  Interviews
Training Course will prepare you for a career in DevOps, the fast-growing field that bridges the gap between software developers and operations. You'll become en expert in the principles of continuous development and deployment, automation of configuration management, inter-team collaboration and IT service agility, using modern DevOps tools such as Git, Docker, and Jenkins. DevOps jobs are highly paid and in great demand, so start on your path today.
What are the course objectives?
DevOps training course is designed to help you become a DevOps practitioner and apply the latest in DevOps methodology to automate your software development lifecycle right out of the class. You will master configuration management; continuous integration deployment, delivery and monitoring using DevOps tools such as Terraform, Packer, Chef, Ansible, Git, Jenkins, Docker, Kubernetes and more in a practical, hands on and interactive approach. The Devops training course focuses heavily on the use of Docker containers, a technology that is revolutionizing the way apps are deployed in the cloud today and is a critical skillset to master in the cloud age.